Cate's career history started in hospitality and then financial services management.
However after starting her family, she started and grew her own bookkeeping practice for many years. That's when she met Squirrel Street and her business changed. SBFO is now exclusively cloud-based and offers full financial operations (managed services) to SMEs Australia wide.
Cate used to be our Accountant and Bookkeeper Evangelist, and has believed in Squirrel Street for almost a decade. It was perhaps inevitable that Cate would take over the business in 2021 and continue expanding the synergy between SBFO and Squirrel Street.
Rai is a veteran of the Australian start-up scene, since the days when you could count the number of Australian startups using just your fingers. She has about 20 startups under her belt, and was Head of Product at Squirrel Street 2015-2017. It was by far her favourite role because not only did she absolutely enjoy working with the team, her business card listed her title as C3PO. =D
Rai had continued using (and loving!) Squirrel Street in the 'in-between' years, so when Cate called, the decision to jump back onboard was a no brainer! She continues volunteering her time mentoring refugee & migrant entrepreneurs through Catalysr, experimenting in the kitchen and garden, and planning her weekends around rugby union match times.
Emily Tibbs – Customer support manager
Emily started her career in customer service and support fresh out from her Bachelor's degree at Macquarie Uni. She found she enjoyed helping people and solving problems, so much so that she was promoted to manage her division within a few months. She hopes the skills she has developed across her years in customer service will make a real difference to Squirrel Street customers and help build positive business relationships into the future.
An avid cook and Francophile, fellow staff say they appreciate the aromas coming out of the office kitchen when she heats up her lunch!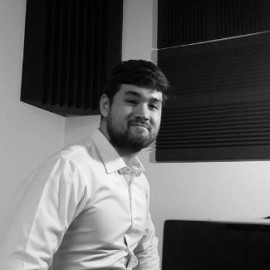 Alex Williams – Growth Hacker
Hailing from the inner-west, Alex has joined the team while finishing off his degree in psychology. Having some experience in programming, marketing and other random fields makes him able to adapt to the ever changing tasks that arise in a start-up.
He likes playing the piano and riding motorbikes.
With technology experience dating back to the early days of the internet, Simon lays claim to working on SaaS products before the term had been coined, experimenting with distributed Microsoft Office 95 during the first cable modem trials in the UK in 1996. Simon has held management roles in leading technology companies including DoubleClick, Mercury Interactive (HP), Lycos Europe (Bertelsmann) and BlueCentral. Simon founded Squirrel Street in 2010.
Simon graduated from the University of New South Wales with a BSc in Computer Science and is a Member of the Australian Computer Society and a Certified Professional. He lives in Sydney's North Shore with his wife, Carron, and three children.